Wednesday, November 9, 2011
3:57 PM
|
Edit Post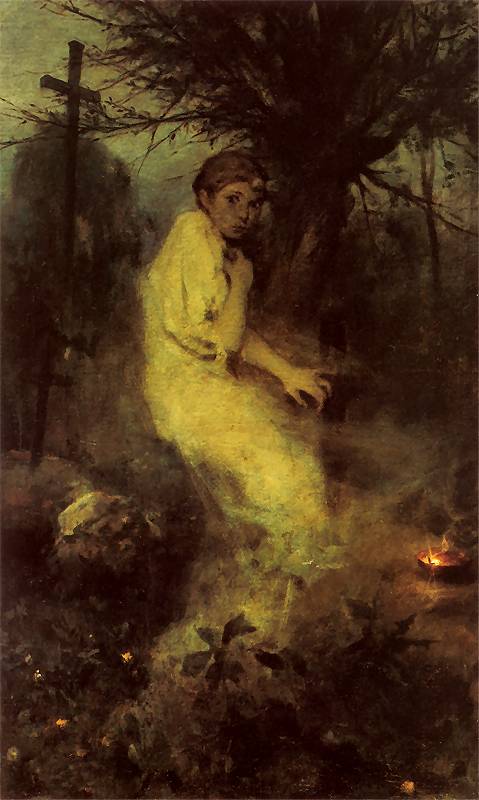 Pan, why do you stop,
and why do you stare?
How was I to know you were standing there?
I am come to the side of one who fell,
Not in pomp of solemn combat,
But murdered meanly like a rat,
And what I sang, was but his fate to tell.
In sooth, 'twas you gave me the fright,
I had thought myself alone this darkling night.
I fear not the suffering souls,
Who have lost all means to harm,
Who would not e'en want the demon's charm,
And I hold not in the power of ghouls.
Yet, you look askance at my soft, votive light,
And eye sidelong this flimsy dress of white.
As if the candle and the shift,
Were signs of something odious.
But endurance of cold may be pious,
And blessed lights do misty darkness lift.
You now have placed your left foot back,
Setting off rearward down the track.
I'd not mind your staying, if rounding a string of beads.
Yet, I 'm more with him below;
Our minds contemplate what He'd bestow.
And for soul's perfection, my soul, like his, bleeds.
Ach, look, you stand there still!
Motionless too long will catch you a chill.
Perhaps I shall, too, with my arms all bare,
Or mayhaps you think, I feel not,
Being parted from this fleshly, mortal lot.
Against that thought, I'll not urge you to declare.
Still let this not stop the prayer on your tongue.
One day, this communion, which you do shun,
Shall be yours wholly,
When of and with fleshless, suffering shades,
We shall love prayer and penance, the aids,
Given freely by the living and the holy.
Labels:
Acts of Mercy
,
All Souls' Day
,
Art
,
Beauty
,
Poetry
,
Poland
,
Purgatory
About Me
Jacobitess

Warsaw, Poland
Domine, spero quia mundum vicisti. Lord, I trust that Thou hast overcome the world. Panie, ufam, żeś pokonał świat.
View my complete profile

Blog Archive